Reviews
Descriptions:
Kadifeden Kesesi Filmi, babaları tarafından Menekşe adlı yarış atını almakla görevlendirilen Ali, Veli ve Mıstık adındaki üç kardeşin başına gelenleri anlatır. Altınoğlu, oğullarının İstanbul'da okuduğunu zannetmekte, Ali'nin doktor, Veli'nin avukat olacağını, Mıstık'ın ise liseye devam ettiğini düşünmektedir. Fakat Ali, Veli ve Mıstık müzisyenlik yapmaktadır. At yarışlarına düşkün olan Altınoğlu, oğullarına Menekşe adlı atı almaları için telgraf çeker. Atın sahibi Yekta satma taraftarı değildir. Bunun üzerine kardeşlerin aklına başka bir plân gelir. Ancak Altınoğlu'nun da İstanbul'a gelmesi işleri karıştıracaktır.
"Kadifeden Kesesi" Filmi Oyuncuları; Kadir İnanır, Münir Özkul, Feri Cansel, Suna Pekuysal, Kadir Savun, Şefik Döğen, Aydın Tezel, Nur Azak, Nevin Aypar, Sümer Tilmaç, Gül Vergon ve Tanju Okan
Yönetmen: Sırrı Gültekin
Senaryo: Sadık Şendil
Yapımcı: Saltuk Film
Görüntü Yönetmeni: Ali Uğur
Vizyona Giriş Tarihi: 01 Haziran 1973
Süre: 77 dk
Tür: Komedi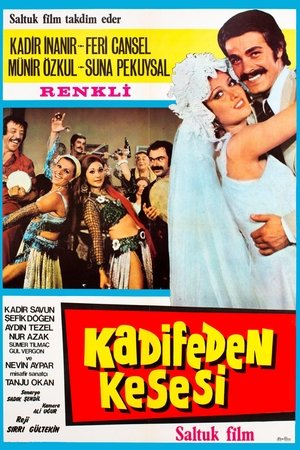 Kadifeden Kesesi
Tells the story of three brothers who are commissioned by their father to buy a race horse. The father thinks that his sons are studying in Istanbul, but they are in fact musicians.
Kadir İnanır

Feri Cansel

Münir Özkul

Suna Pekuysal
Kadir Savun
Şefik Döğen

Aydın Tezel

Sümer Tilmaç

Nevin Aypar

Mine Koşan

Sadık Şendil
Tags