Reviews
Descriptions:
Şampiyon; 1970 yapımı başrollerini Emel Sayın ile Ayhan Işık'ın yaptığı yeşilçam filmidir. Tek parça olarak izleyebilirsiniz. İyi seyirler.
Filmde, karısını öldüren adamları bulmaya çalışan bir adamın hikâyesi anlatılır. Eski bir boks şampiyonu olan Nihat, artık taksi şoförlüğü yapmaktadır. Bu yüzden karısı Leyla, Nihat'ın yoksul hayatından sürekli şikâyet eder. Gözü yükseklerde olan Leyla, kocasını Kerim adında bir adamla aldatır. Bir gün Kerim'le beraber çalıştığı iş yerini soyarak kaçar. Nihat'a da bir mektup bırakır ve onu terk eder. Nihat, karısı gittikten sonra yaşadığı şehirden ayrılmaya karar verir. Ancak aynı akşam Leyla'yı arabasında ölmüş olarak bulur. Nihat, karısını öldüren Kerim'in peşine düşecektir.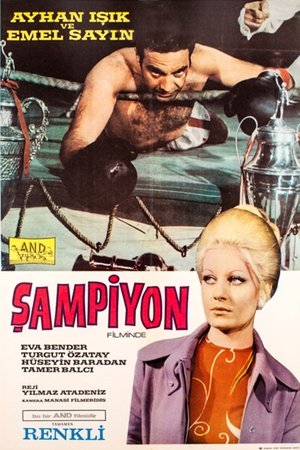 Şampiyon
A night club singer decides to join a troubled boxing champion evading police investigation. The trust chains are broken between the two the night the champion gets in a fist fight single-handedly before his wife is murdered.
Emel Sayın
Ayhan Işık

Eva Bender

Turgut Özatay

Hüseyin Baradan
Tamer Balcı

Haydar Karaer
Yılmaz Atadeniz
Tags