Reviews
Descriptions:
Sekreter Filmi Konusu:
Filmde, fakir bir kadın ile zengin bir adamın yaşadığı aşk hikayesi konu edilir. Fakir bir ailenin kızı olan Hülya, gittiği tatilde Erkut adında bir adamla tanışır. Zengin bir ailenin tek varisi olan Erkut ile birbirlerine aşık olurlar. Bir süre sonra da Hülya hamile kalır. Ancak bu durumu Erkut'a söylemeye fırsat bulamaz. İlişkilerini onaylamayan Erkut'un babası çifti ayırır. Ne var ki ayrılan Hülya ve Erkut birbirlerini unutamayacaktır.
Sekreter Filmi Hakkında:
Tür: Dram, Duygusal
Yapımcılar: Ferit Turgut, Kadir Turgut
Yönetmen: Temel Gürsu
Senaryo: Suphi Tekniker
Oyuncular: Hülya Avşar, Tolga Savacı, Güzin Doğan, Gül Vergon, Neriman Köksal, Ali Sururi, Muhip Arcuman, Yüksel Gözen, Ertuğrul Bilda, Baykal Kent, İhsan Devrim, Aynur Akarsu
Süre: 72 Dakika
Yapım Yılı: 1986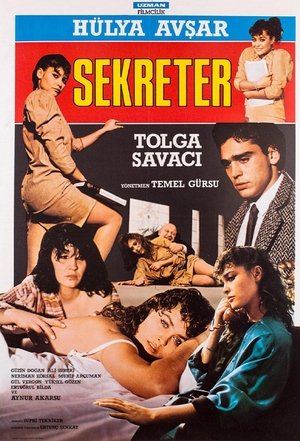 A womanizer office boss blackmails his assistant by requesting her to please him, a young ingenue whom he hired as his own private secretary. She then decides to fascinate him by collecting enough proof to get him caught red-handed.

Hülya Avşar

Tolga Savacı

Neriman Köksal
Muhip Arcıman
Ali Sururi

Aynur Akarsu

Ertuğrul Bilda
Baykal Kent
Ertunç Şenkay

Suphi Tekniker
Temel Gürsu
Tags