Reviews
Descriptions:
Umut Sokağı filminin oyuncuları; Kadir İnanır, Bülent Bilgiç, Şehnaz Dilan, Songül Ülkü, Kazım Kartal, Baki Tamer, Ali Tutal, Selahattin Fırat, Ali Ceylan, Hasan Yıldız, Akif Kilman, Seyfettin Karadayı, Muhteşem Durukan, Erol Özkök.
Umut Sokağı filminin Konusu; Kabadayılar dünyasında hızla yükselen bir kahveci olan Ali (Kadir İnanır), kendisini öldürmek isteyen birini öldürdükten sonra, cesaretiyle kısa zamanda yeraltı dünyasının büyükleri arasına girer. Bir mafya babası olan Arap Hasan ile çıkarları çatışınca onu da öldürür. Bir gün sevdiği kızın başkasıyla evlendirileceğini duyan Ali, düğünü basar ve kızla evlenir; damadı ise paraya boğup, Antalya'ya tatile gönderir. Mahallesinden tanıdığı bir genç okulu bitirip mezun olduğunda evlenmesine yardım eden Ali, ona iş teklifi edip, parasının tüm idaresini ona teslim eder. Genç adam 3 sene içinde çok başarılı olur ve kendini elde ettiği güce kaptırıp gözünü ülke yönetimine kadar diker. Fakat bu başarıları yeraltı dünyasının çıkarlarıyla çatışır. Ali artık onun da icabına bakması gerekecektir.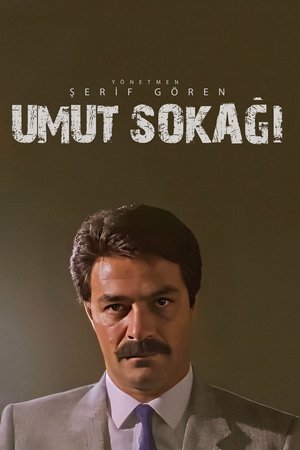 Umut Sokağı
Ali Silvan,violence prone person from shantytown of Istanbul,after committing homicide he rises rapidly within underworld owing to his gameness and intrepidness personality and became one of the most powerful underworld leaders of Istanbul. Due to being unlawful, He must trust his old friend Bülent who studied counting from same neighborhood to incorporate legitimized companies; however carrying all the authority and withholding all the wealth Bulent sets out to provoke Ali and other leaders of the underworld. Hereby, Bulent is forced to find a way out to procure the balance of power back.
Kadir İnanır

Bülent Bilgiç

Şehnaz Dilan

Kazım Kartal
Baki Tamer

Songül Ülkü

Ali Tutal
Selahattin Fırat

Akif Kilman
Seyfettin Karadayı

Muhteşem Durukan

Dündar Aydınlı

Şerif Gören

İlhan Engin
Tags